6 Bizarre Airplane Interior Designs That Could Change Flying Forever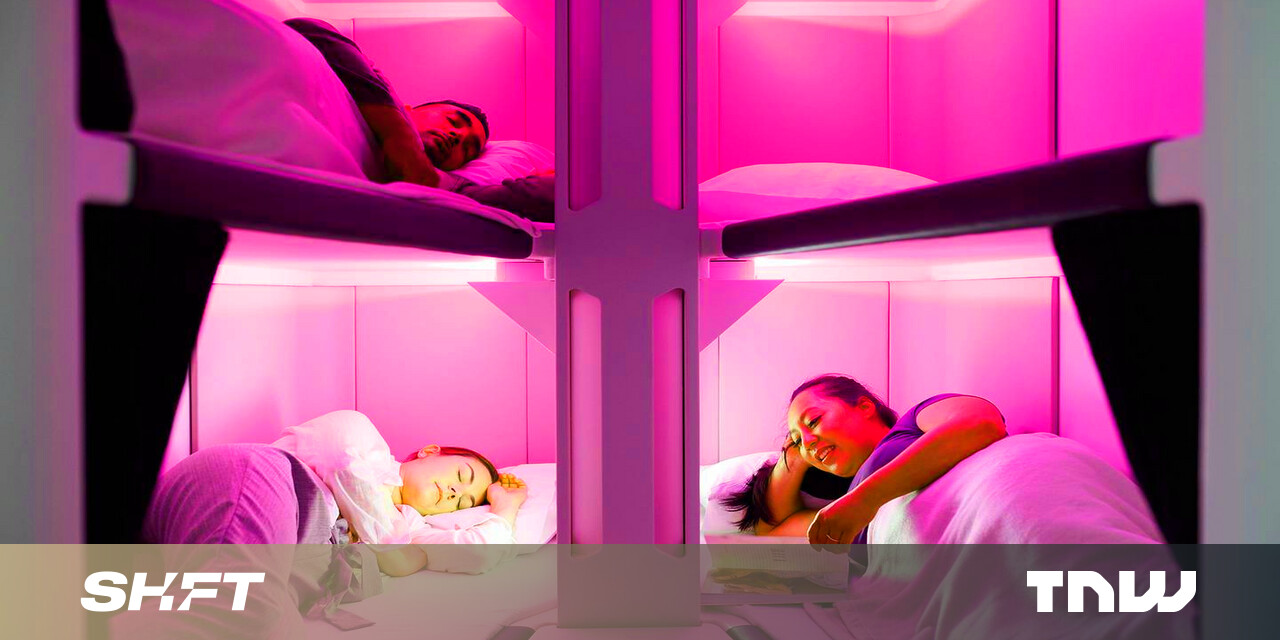 Long-haul flights are a necessary evil and I was intrigued this week to see that Air New Zealand is launching the world's first sleep capsules for economy class travellers.
This is rare good news for aircraft design. I'm still in shock at Ryanair's idea of remove airplane toilets and his Skyrider concept, a "standing seat" from the pits of hell.
It's baaaaaack! The AvioInteriors Skyrider saddle seat returns to #AIX18 after its controversial reception. Does the fact that 28″ is normal on low-cost airlines mean that a 23″ squat for a (very) short flight seems more #PaxEx acceptable? #avgeek pic.twitter.com/zLylr91NiT

— John Walton 🏳️‍🌈🇪🇺 (@thatjohn) April 10, 2018
Fortunately, all is not bad. Many people design aircraft interiors with passenger comfort in mind. Here are some of the latest (and best) ideas:
sleep pods
When you're on a long-haul flight, all you want to do is lie flat. And now you can do it without having to shell out tickets for which you need a mortgage.
Yes, I'm talking about Air New Zealand sleep pods. Each bunk bed unit has its own mattress, linens, privacy curtain, USB charging and ventilation.
However, pods are common and passengers can only reserve a pod for four hours.
Worse, there are only six modules per plane. A plane carries about 200 passengers, so assuming it serves about 24 of them over several four-hour shifts, there will be another 176 passengers who will be very upset that they didn't get a reservation.
Just wait for the air rage, people.
cloud capsule
The cloud capsule is designed to increase passenger comfort while earning more money for the airline.
Paid capsules sit above the exterior walkways and can be used for sleeping, relaxing, or concentrating on work in a private setting.
So it's kind of like having people sleeping in an overhead locker. Or you can just lay there and feel the searing resentment of those unlucky enough to sit below you. A little creepy, but it's not like I'm saying no.
SpaceChiller
SpaceChiller by Collins Aerospace is a personal mini-bar requiring half the power of traditional designs.
SpaceChiller uses advanced heat sinks, originally developed by the Defense Advanced Research Project Agency (DARPA), reducing power consumption by up to 50% compared to alternative thermoelectric systems and can be operated in multiple service areas and passenger seats.
I like the idea of ​​not having to ask for a drink at 3am while I'm gorging myself on all the nonsense the airline decided to watch. Bring it on.
Raised cabins
Imagine a cubicle with natural materials and "floating furniture" attached to wall brackets so you can easily store items underneath. Conceived by Tag and NORDAM, the design creates space without removing seating capacity.
The downside, of course, is that you probably need some serious coin to be able to afford to use it, but I can dream.
Airplane seat lounge chair
You can blame the Technical University of Delft for this design. It was the brainchild of graduate student Alejandro Núñez Vicente who said CNN Travel of its goal of "changing economy class seats for the betterment of humanity, or for all the people who cannot afford to pay for more expensive tickets".
High ambition or masochistic design?
I like the under-storage for those sitting above, and I'm small enough that being this close to the ceiling in a higher seat doesn't bother me. But I don't like my chance to stay up when I quit – especially after a few gin and tonics.
But as some marvel at Núñez Vicente's innovation, the internet is divided, with posters on Reddit concerned about the ease of evacuation, the risk of breaking their knees and claustrophobia for the lower passenger. One commenter said: "just sedate me and put me in a drawer already…"
Vincente is apparently in talks with investors and airlines.
The coffee booth
This design is a winner from last year Crystal Cabin Rewards in the college student category, but I love it, so I decided to share it with you.
A long table runs down the center of the cabin, creating a convenient space for remote work, meetings, and coffee drinking. Imagine it. You can open your laptop without worrying that the moron in front of you will push his seat back and break it.
While most of these ideas are more in the concept phase than the commercial phase, what is clear is that flying – especially luxury aviation – is still incredibly popular. As we create new airplane modes, we need new cabin interiors, and these designs could be the start of something amazing.